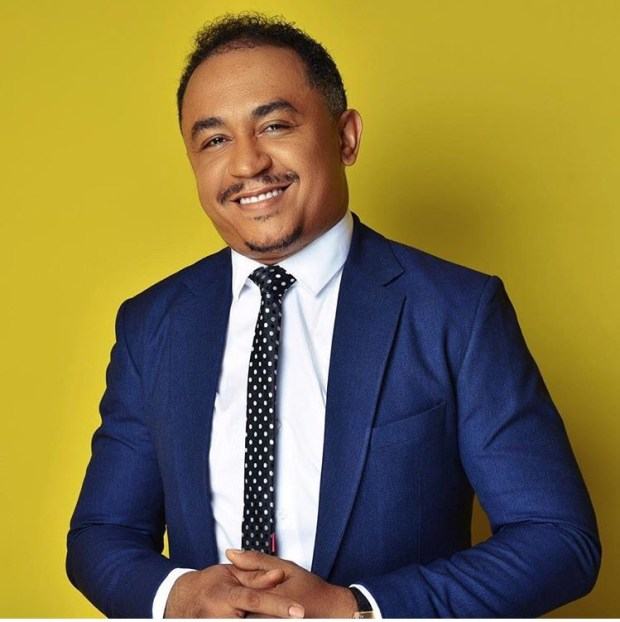 Political analyst and social commentator, Alexander Thandi Ubani has blasted Daddy Freeze for not practicing what he preaches, and leading people in the wrong path.
Daddy Freeze is known for his controversial views on Churches, politics and the entertainment industry.
Alex said, "It is important that I make this clarification: I do not have any personal grudge against Ifedayo Olarinde aka Daddy Freeze. I am writing this because of the obvious contradictions and fakery associated with his person which I believe have been ignored giving him the ginger to continue on this path to perdition thereby deceiving the gullible.
(A little background: Daddy Freeze is an On-Air-Personality (OAP) who works with Cool FM. He considers himself to be the most intelligent OAP in Nigeria. He shows off his muiltimillion naira cars and expensive watches on social media and spends most of his time bashing men of God.)
To start with, Daddy Freeze is a con artist, a greedy punk who makes money through trickery. As a radio presenter, Daddy Freeze charges musicians huge sums just to play their music on air. Note: this is against rule of the radio station where he works. In fact, the act is called Payola which refers to an illegal practice of payment or other inducement by record companies for the broadcast of recordings on commercial radio in which the song is presented as being part of the normal day's broadcast, without announcing that there has been consideration paid in cash or in kind for its airplay.
My friend, a musician recounted his ordeal in the hands of Daddy Freeze to me. He was forced to jettison the idea of having his song played on Daddy Freeze's radio station due to the exorbitant amount he charged his team. This is even as a large inscription on the wall of the building prohibits OAPs from charging money to play songs. How ironic! The worst is that he doesn't charge what up and coming musicians can afford; his greed makes him to go for very high figures, all for his evil pocket.
As a con artist he always is, Daddy Freeze has justified himself for collecting money from artistes to play their songs using the guise of 'consultancy' after he was called out on Twitter. Consultancy for what? What is a musician consulting from a radio presenter like Daddy Freeze other than to give him his song to play? Is he a music guru, video director, song writer, producer or what for a musician to seek for consultation?
If you say you charge people for consultancy, then spell out the services you will be offering because taking songs from musicians to play on radio cannot be 'consultancy'.
Daddy Freeze is nothing but a dishonourable fellow with a twisted mentality. For every bad thing he does, he has a justification. In his small mind, he's a king that does no wrong.
Because of this greedy venture invented by him and his fellow OAPs, it is difficult for good artistes to have their songs heard because they do not have the financial strength. The industry is now left for the money bags who pay huge sums to Daddy Freeze and his likes to have whack songs promoted, thereby muffling those who are talented but poor.
Playing songs are supposed to be free, a selfless act for your audience/listeners meant to entertain and keep them glued to your radio. Since people like Daddy Freeze monetized the process, our ears have become a dumping ground for all manner of whack and meaningless songs because the good ones have been sacrificed on the altar of six figure checks.
These days, when you listen to some radio stations, you wonder how the songs made it to the playlist – all thanks to Daddy Freeze and his co-conspirators.
Daddy Freeze is the true definition of hypocrisy. Here is a man who rips artistes apart with dubious charges but jacks off on a daily basis by attacking the clergy at every given opportunity.
It is the height of foolery and hypocrisy that a man who dubiously siphons money from artistes in the name of playing their songs on air (which is totally against the rule of the station where he works) will have the effrontery to cast aspersions on clergymen who ask their members to pay tithe – an obligation gotten from the scriptures.
Here is a cheat who hides under the guise of consultancy to extort money from people, still open his mouth to preach the word of God on a daily basis. You teach people about the gospel, but your life is the exact opposite of what you preach. I consider such to be an act of sheer iberiberism (apologies to Rochas Okorocha).
This is the exact reason why many people do not take Daddy Freeze serious except for zombies. Even the gospel you preach all the time admonished you to be the light of the world. Yes, be of good conduct that by your action, you may win souls for Christ.
With the same mouth you curse, insult and make fun of people who share a different opinion with you on a matter, that is the same mouth you use to preach the gospel of Jesus Christ.
The same mouth you use to preach the gospel, that is the same mouth you use to mock a man or woman on your page with physical deformity just because he or she disagrees with you. Shame on you, Daddy Freeze. You have knowledge but lack wisdom.
Pause for a moment Daddy Freeze and allow this to sink in: You may be gifted in the act of oratory display, be an eloquent speaker, but those who see beyond the flamboyant maneuvers you display cannot be deceived – all are a mere bombastic dribbling to deceive the gullible.
Do you Daddy Freeze even have a conscience? Or has it been smeared overtime by the many lies you've told yourself, that it is now a part of you?
A busybody who feels his opinion on every issue must be right, taken and accepted as the voice of god. A lily-livered chicken who blocks off those who have superior argument, but climaxes by attacking those he feels cannot match his sycophantic excesses.
You are a lost soul who claims to know the scriptures but cannot abide by its rules. What sense is there to have knowledge without wisdom?
A man who is versed in the scriptures but fails to follow the instructions contained therein, takes pleasure in teaching it to others but his life reeks of the exact opposite of what he teaches is nothing but a nitwit whose only objective is to show off. You remind me of the pharisees.
Brother, repent before it is too late.
Yours truly,
Alexander Thandi Ubani
[email protected]"
NaijaVibe HoT DOWNLOAD
👇