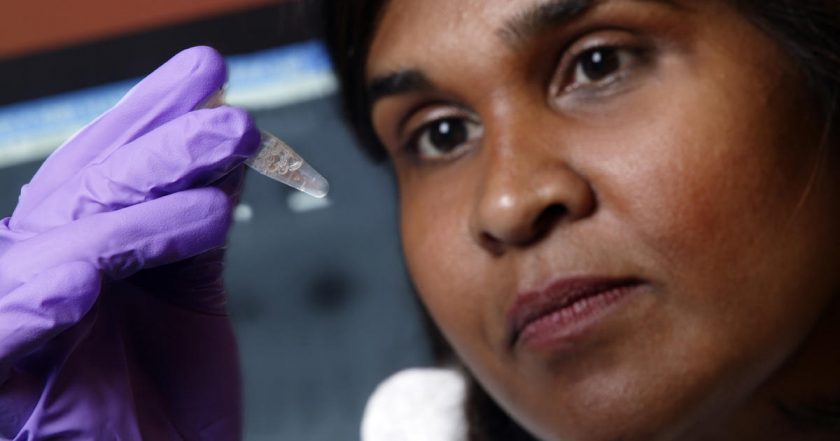 In a landmark medical case, a Mississippi baby diagnosed with HIV at birth more than two years ago is reportedly 'functionally cured' of the virus. If she remains healthy, she'll be the second only known person in the world to be cured of HIV.
A Mississippi baby, who was born with HIV, is now "functionally cured" from the deadly virus that causes AIDS more than two years after her diagnosis, according to a report released by The Foundation for AIDS Research. The case, which was presented on March 3 at the 2013 Conference on Retroviruses and Opportunistic Infections in Atlanta, marks a giant step in future HIV treatment.
The young child, whose name remained anonymous, had not taken her antiretroviral medication for about a year, and still did not display any signs of the HIV infection. If the child's health remains in good condition, it would mark the second time in the history of the world that a person has been cured of HIV – and the first documented case of a child being cured of the deathly virus, according to ABC News.
The HIV Baby's Unique Case
The infant's mother was HIV positive, but did not get the proper prenatal care or HIV treatment before giving birth, Dr. Rowena Johnston, director of amfAR, told ABC News. Nearly 30 hours after birth, the infant began an antiretroviral treatment at the University of Mississippi Medical Center.
Three powerful antiretroviral drugs, AZT, 3TC and nevirapine, were prescribed to the baby by doctors after birth. Dr. Johnston believes that prescribing the particular three medications to the infant so early is what made a difference.
If one had to make an educated guess, the difference was receiving the treatment dose very soon after birth, earlier than standard care in the U.S.
Dr. Johnston said. The baby's viral load test came back as high, and then decreased in the first month of treatment. Viral loads were detected three times but became undetectable by the time the baby reached one month of age. The baby was being treated and under doctor's care until she was 12-15 months of age, but the doctors lost contact with the mother, causing the baby to stop receiving medication.
At around 23 months of age, the baby returned for care. Despite being off treatment for a year, virus loads were shockingly still undetectable. Dr. Johnston identifies the results as shocking since doctors usually do not advise stopping treatment at any time in children who are born with HIV.
The mother's HIV is medicated and controlled while she is "quite excited for her child", says Dr Hanna Gay, a pediatric HIV specialist at the University of Mississippi, who was initially surprised by the results. "Highly sensitive" tests confirmed the disappearance of the virus, according to the news release.
_ Hollywoodlife
We would love to know your thoughts on this post. Drop your comments
NaijaVibe HoT DOWNLOAD
👇