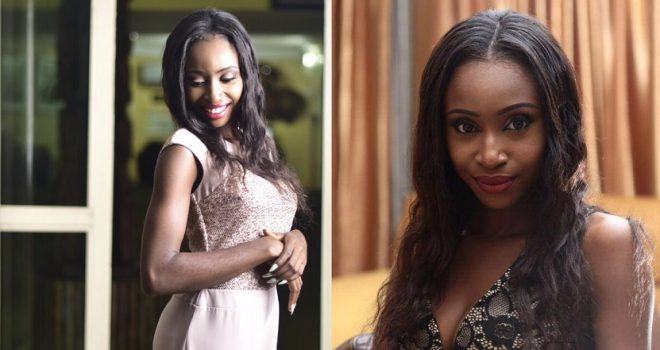 Embattled 20-year-old ex-beauty queen, Chidinma Okeke, has finally broken her silence.
A video of the former Miss Anambra has been trending since October 11, 2016, a few days before the expiration of her tenure on October 28.
Miss Anambra beauty pageant was organised by the Anambra Broadcasting Service (ABS).
Narrating her own side of the story to The Nation, Chidinma said: 'Early last year, the ABS advertised for the Miss Anambra beauty pageant. I heard of it and went to make enquiry.
'My roommate was also interested, but one of the organisers told me to apply. I told them I was not interested but the man insisted that I might win the competition. He also promised to give me the form for free if I indicated interest, and he did when I agreed to contest.
'But one Jane told me that before a winner would be declared, there were certain things to be done, including the (sex) video. I consented after some persuasion from the organisers. I later went for the contest at the Marble Arch Hotels in Awka, and I was declared winner with a Kia Rio vehicle as star prize.
'When I went for my car after the contest, the organisers brought out a contract form for me to sign, but I told them I wanted to contact my lawyer to see it. I was not given the opportunity to do so.
'What they kept telling me was that if I insisted on not signing the contract or wanted to contact my lawyer, they would release the video.
At that point, I became uncomfortable and signed the contract to avoid such embarrassment, and the car was released to me from where it was packed within the premises of ABS.
From that moment, I became a slave to them. On October 11, 2016, they called me to come and make presentations inside the office of one the organisers. After that, the man excused some people in that room and showed me the video again.
They told me to drop my car and removed my crown from me. I told them I would take the car as stipulated in the contract. They insisted I should pack it in the premises of (ABS).
I told my uncle in Abuja about the situation. My uncle called them and asked them to release my car to me. Instead, they forwarded the video to him as part of the blackmail. That was what happened," Chidinma said, crying.
Also reacting, her parents, Sir Jeremiah and his wife, Lady Nora Okeke, said the management and organisers of the pageant capitalised on his daughter's age and naivety to deny her whatever monetary gains she made while serving as Miss Anambra.'
Sir Okeke said: 'How can a beauty queen borrow money to pay her driver, even when she is supposed to be receiving a monthly salary?
I cannot say all that I heard or saw. Why was she not paid her winning prize of one million naira fully? Rather, they paid her on installment basis. And up until today, the money has not been completely paid.
They have rubbished her and rubbed the family's name in the mud. But we have united as a family, praying seriously for my daughter and for the people behind this wicked act to be exposed.
My family at first agreed not to tell me about the whole thing, because I am hypertensive. But they decided otherwise when things got out of hand. I told them this issue will not kill me because I have had worse experiences while in business years back.
My God, as always, will answer me and expose the truth in no distant time. I won't say much because the damage has already been done.
Chidinma is a small girl who does not know anything, hence, she fell into a trap that was too heavy for her to shoulder. But I thank God she is recovering.'
Follow NaijaVibe


HoT DOWNLOAD
👇