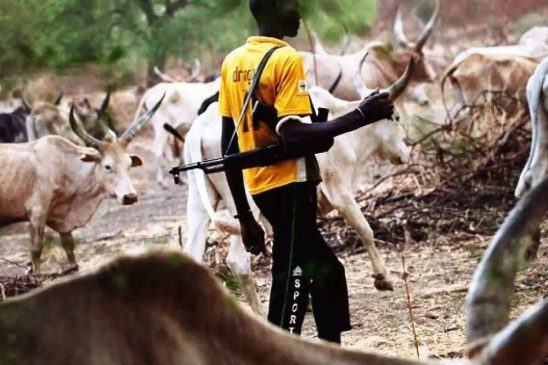 The National Economic Council, NEC, presided over by Vice President Yemi Osinbajo yesterday April 26th, agreed to stop the movement of herdsmen in the country, starting with Benue, Taraba, Adamawa, Kaduna and Plateau.
The meeting which had in attendance state governors, approved the creation of ranches across the country.
Briefing newsmen after the meeting, the Ebonyi state governor, David Umahi said the five mainly affected states which have witnessed killings from the herdsmen/farmers clashes were expected to make land available for ranches.
"Today we looked at three categories of herdsmen in Nigeria. We looked at the foreign herdsmen that come in due to the treaty and we continue to say that the treaty is not being properly implemented.
For any herdsman to come into Nigeria from outside, there should be a kind of certification, there must be a letter, even though you are not coming in with a Visa, you have to travel with ECOWAS documentation. Animals that are coming into the country are required to be quarantined, but this is not being done. This is one category. Secondly, we have the nomadic herdsmen, who during the dry season, travel from up North to the Middle Belt down to the South. This creates conflicts .
Also foreign herdsmen coming all through the way from neighboring countries and traveling through the farm lands also cause conflicts. Then of course, we have the migrant herdsmen who migrate for a very long time and settle with the villagers and even inter marry with them. These are the three categories we have in Nigeria.
We agreed that movement is not profitable to the herdsmen because they value the milk from the cows even more than the cows themselves. So, the movement is not healthy for the cows as it dries up the meat and give less than two liters of milk per cow per day. We condemn the issues of foreign invasion by foreign herdsmen and l am happy that the Federal Government is doing something about it. Today, there was a meeting of ECOWAS countries on the subject and we also agreed that these movements have to stop and occasionally by those who have settled and integrated from other parts of the country like the middle belt, they sometimes go into conflicts with farmers. In all we agreed that there is a more profitable and modern way of raising these cows which is by ranching.
We have agreed that the states involved are going to give lands. Niger and Kaduna have given lands and Plateau is also giving land. Ranching is being practiced in Mambila, Taraba States and they have success stories with regards to that. We also agreed that through the Agric Ministry, we need to introduce new species of cows. The Minister told us that there are new species that produce as much as 60 liters of milk per day." per cow, and that the cows weight as much as 900 Kgs but our own weight less than 200kgs. "So, we have agreed that we are going to work on these new species, while also working with our ranching."
NaijaVibe HoT DOWNLOAD
👇