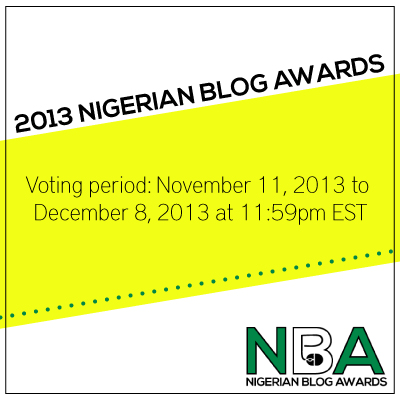 First we want to thank you all for nominating us. We made five categories in the Nigerian Blog Awards 2013, yay!!!.
Voting starts today, abeg make una vote o, no fall our hand o. lol
To vote, its very easy, go to http://nigerianblogawards.com/vote2013.php.
If you nominated us in September just type your name and email address in the space provided.
Scroll down and click on the NaijaVibe in Best designed blog, Best entertainment blog, Best new blog, Best music blog, Blog of the year categories
Then click submit.
However, if you didn't nominate us in September, go through the same steps above but check your email for a validation link and click on it for your vote to be counted. Please .
Lets get it!!!
Nominees for the 2013 Nigerian Blog Awards are (listed in alphabetical order):
Best Beauty Blog
Blog about makeup or other beauty products
Beauty in Lagos
Blushes and Dimples
Organics by MelVee
Stella's Addiction
That Igbo Chick
Best Book, Poetry, or Writing Blog
Blog that focuses on books, poetry, or writing, in particular the blogger's original works
Glowing Scenes
I am Papyrus
Krazan.tGc
Malcolm's Blog
Tommyslav's Island
Best Business or Entrepreneurship Blog
Blog that focuses on building a business or on entrepreneurship
SpreadMedia
Succeed Online (Stephanie Obi)
The Business Aim
Tips to Make Money in Nigeria
Under35CEO
Best Career or Job Blog
Blog that focuses on developing career skills or on finding jobs
Hot Nigerian Jobs
Jarushub
Jobberman Insider
JobGurus
Ng Careers Blog
Best Collaborative or Group Blog
Blog on any topic, written by two or more people
360Nobs.com
Blogging Tips Today
Date360
Tatafo Naija
The Naked Convos
Best-Designed Blog
Blog that is visually appealing. Although the design can be based on a template, it must be modified from the original template
Date 360 Blog
..from my Purple Heart
SirKenAyo
Sisi Yemmie
Best Educational or Instructional Blog
Blog that focuses on the education industry, or on instructing its readers through tutorials
After School Africa
Campus Portal Nigeria
ECHO Blog
Orjiakor's Blog
Unilag Admissions Guide by Timothy Ozovehe
Best Entertainment Blog
Blog about the entertainment industry, including celebrities and gossip
Date360
Dessey's Blog
Linda Ikeji
NaijaVibe
SirKenAyo
Best Faith-based Blog
Blog with a focus on religious beliefs or themes
Kingdom Come (Ekpo Ezechinyere)
Kisses & Huggs Club
Mind and Mouth
Teshuva: Inspirations for a better life
You and I
Best Fashion or Personal Style Blog
Blog about fashion, fashion design, or personal style
Fashion Rehab
Metro Gypsie
OmogeMuRa
StyleFash25
TrendyRammy
Best Fitness or Health Blog
Blog that focuses on healthy living, exercise, or wellness
Eights and Weights
Healthable
HealthSaveBlog
My Big Fat Weight Loss Journey
Weight Loss for Africans
Best Food Blog
Blog with a focus on food, cooking, catering, or similar
9ja Foodie
Cooking Zone with Brenda
Dobby's Signature
Dooney's Kitchen
Lohi's Creations
Best Humour Blog
Blog that is amusing or lighthearted in nature
Sisi Yemmie
The Home of Humour Stories
The Sarcastic Center
The Sick Bastard
Useful Information about Nothing
Best Movie Blog
Blog about Nollywood or other movie industry, or movies more generally
Movie Markers
Movie Pencil
Movie Reviews
Sodas & Popcorn
Your Number One Most Informative Blog
Best Music Blog
Blog that focuses on music or the music industry
NaijaBamBam
NaijaVibe
Not Just OK
SirKenAyo
tooXclusive
Best New Blog
Blog established in August 2012 or more recently
Diamond Odey
Glowing Scenes
HealthBlogNG
NaijaVibe
Unilag Admissions Guide by Timothy Ozovehe
Best News Blog
Blog with a focus on Nigerian news or current events
9jaMg.com
Naij
Naija Gossip Blog
Nedu Echianu's Blog
News Bytes Now
Best Parenting or Family Blog
Blog with a strong focus on parenting, family life, or the journey to become a parent
Channel of Virtue
First Time Mom
Making Mrs. Mauritz
Stepping into Motherhood
The Sweet Bitter Life of an Igbo Princess
Best Personal Blog
Blog that focuses on the author's experiences, or shares the author's opinion on a variety of topics
Dipo Writes
Mind and Mouth
Mr. Tackle's Blog
Nelly Agbogu's Blog
Sisi Yemmie
Best Photography Blog
Blog that focuses on photography and includes the blogger's original photographs
Alakija
Jide Odukoya
OrionPixels
Riri Belle
Sniper Ajix Photography
Best Political Blog
Blog with a strong focus on Nigerian politics
Change and Revolution
Ekekeee
News Bytes Now
Omojuwa
The Scoop
Best Relationship Blog
Blog with a focus on romantic relationships
Embodiment of Grace
Kisses & Huggs Club
Meek and Gentle
Nikky's Love Corner
Shiyanmoshift's Blog
Best Science or Technology Blog
Blog about science or technology, including information technology
DarlingtonPeters
Dayo Ibitoye
On Third Planet
TechAngelsGates
TechLoy
Best Sports Blog
Blog that focuses on Nigerians in sports, or on sports in general
Arsenal Territory
Gooner Daily
Pooja's Blog
Soccer Fan Base
The 12th Player
Best Student Blog
Blog by an individual currently enrolled in school
Corn City Naija
Date360
Gist Uniport
SirKenAyo
Unilag Admissions Guide by Timothy Ozovehe
Best Topical Blog
Blog with a clear niche that is not represented in any of the other categories
Development Synergy (Niche: individual and community development)
Emeka Talks (Niche: success, personal development, self improvement)
Free Naija Lyrics (Niche: Song lyrics)
Make Money Online Nigeria (Niche: Making money online)
Yo'ba Mo'odua (Niche: Yoruba culture)
Best Travel or Tourism Blog
Blog about travelling within Nigeria, Africa, or elsewhere in the world
African Aviation News
Come to Nigeria
FlyNaija
Lape Soetan
Naijatreks
Best Wedding Blog
Blog that covers personal preparations for a wedding, weddings in general, or industries related to weddings such as event planning or coordinating
Aisle Perfect
Everything Weddings & More
Nigerian Wedding
Wedding Digest Nigeria
Wedding Trendy
Nigerian Blog of the Year
Best overall blog by a Nigerian or best blog with a strong focus on any aspect of Nigeria
Follow NaijaVibe


HoT DOWNLOAD
👇



Date360
Dayo Ibitoye
Jarushub
Linda Ikeji
My Mind Snaps
NaijaVibe
News Bytes Now
SirKenAyo
Sisi Yemmie
The Naked Convos