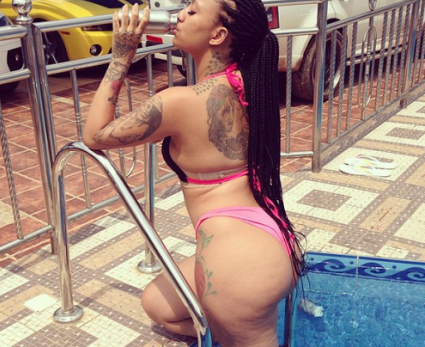 Naomi:
'So what are you thinking about madam? Where your mind dey?' Funke asked me when I came back to reality
'no mind me jare, I dey think of my life joor, that Mr Oye is just trying to frustrate my life ni, am so tired', I lied
'eh f**k am na', was Funke's reply, 'just make sure you use condom sha o, you know that man sleeps around a lot make you no go carry disease o, plus he is a very handsome man too, guess that's why those babes don't think twice before they open their legs, lol', we both laughed.
'Ehen come to think of it o, why that man never come disturb u sef, you be hot babe na, abi u don already f**k abi', I asked
'haba Naomi why would you even ask such a thing, that man won't dare come close to me na, you don forget who I dey date ni?'
'oh! shey that your proud Collins, mtscheeew, wetin you see for that guy body sef and I hope you people didn't release on my bed o', we both laughed and my phone rang.
************************************************************
I couldn't stop thinking about what Collins did to me, the way he handled me eh, was so crazy, I mustn't allow such to happened again, chai, that guy for just f**k me like mumu o, chai, Funke you almost messed up, after all this while you want him to just enter and carry your matter to his friends, and they make jest of you, omo no try am o, infact from now on I mustn't allow him into my room when am alone again because I can't trust myself not to give in to the next try, that guy is damn good with his tongue, to think Mrs Ayodele was the best p**sy sucker I had ever had.. I looked at the screen again and picked the call
'Hello darling, how have you been, its been awhile, you don't call me or even wanna come to Abuja again, did I offend you darling, I have really missed your kisses and your love making, please when am I seeing you again' Mrs Ayodele said.
Mrs ayodele is my ex's mum, we met when her son invited me to her birthday, and since then she has been showering me with gifts, infact the car I drive in school she bought it, she even insisted on getting me another place in school so she can always have time to come visit me but I refused because I didn't want to really get too serious with her due to d fact that her son was still my friend and attended the same school as I do, so its best I travel down whenever she needs my touches and I need her cash too. Mrs Ayodele is a very beautiful lady, even after 4 kids, she still looked sexy, slim, with lovely skin and firm boobs, I wonder how she does it..
'oh my darling am so sorry been busy with school runs, you know how it can be at times, but its doesn't mean I don't think about you always, infact I can't stop thinking about the way we made love the last time, you're the best'.
'oh yea, I'm the best and you refused calling or even coming down to Abuja to visit, you know all you just have to do is call my PA, Lekan and he would book your flight for you'.
'can you make it this weekend, I miss you so much, you gonna come spend the weekend with mi o'
'Alright no problem' I said
'I will tell Lekan to send you your ticket via email, I love you so much'
'Love you too, bye'
Naomi looked at me and asked, who was that?
'oh, that's just a friend he is in town and wants me to come meet him up in Abuja for the weekend'
'really' Naomi's face brightened 'wow!! where in Abuja and can I come with you, you know say the school don tire mi small and as u dey commot so, everywhere go just dry, and as light no come dey sef, please na lemme come along I promise I no go snatch your bobo, make I just commot from this boring hostel..'
'babes I don't think it would be possible o, I need to inform him first plus he is a very reserved person he wont like that, maybe I could tell him to hook you up with a friend when I get there sha'
'ok o, if you say so ma, Naomi said with disappointment.
*****************************************************************
While on my flight to Abuja I met a lady who seem to be visiting Abuja for the first..
'Hi? my name is Omolade but you can call me Lade'
'Hi Lade, I'm Funke, is this your first time here?' I asked
'yes, its my first time in Abuja, am actually here for an interview
'wow that's nice, I wish you all the best'.
'thank you' she said
'so what is Funke here for? Business or pleasure?'
'eh well am actually coming to see my aunt, she hasn't been feeling too fine lately, so am here to see her' I lied
'oh, am so sorry to hear that, I wish her quick recovery'
'thanks'.
I met Lekan who was waiting for me at the airport. At the car park I saw Lade struggling with her bag and still trying to get a cab, she was so excited when I told Lekan to drop her off at her destination.. not knowing that this will be the beginning of a wonderful friendship..
NaijaVibe HoT DOWNLOAD
👇