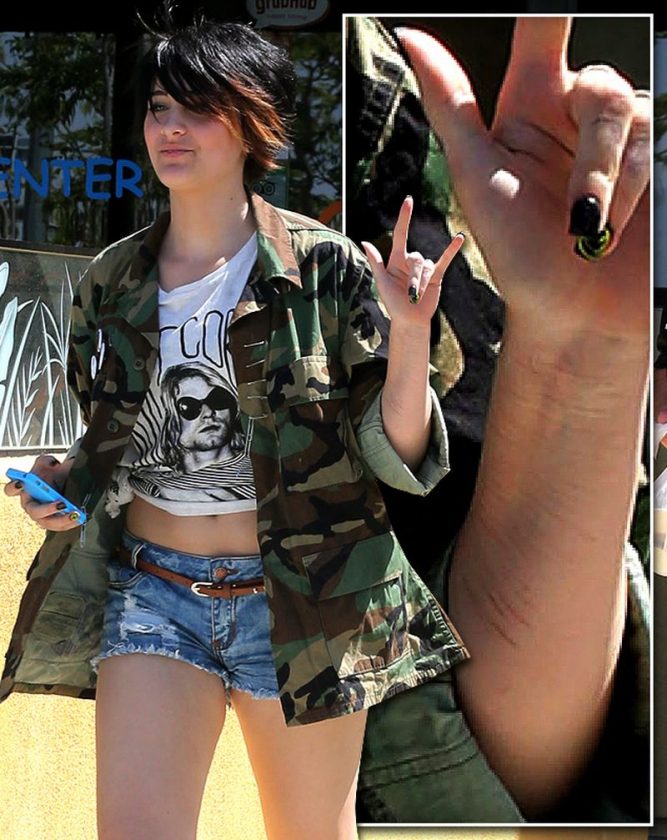 Paris, the pretty daughter of late pop sensation, Michael Jackson, had attempted to take her own life by slashing her wrists. While a lot of blogs are agog with the news, very few know the motive behind her actions. According to an exclusive report from HollywoodLife, Paris' desperate move may have been set in motion by the recent claims by choreographer Wade Robson that her father was a pedophile who sexually abused him. His claims have "really thrown her into a tailspin", a source had revealed.
Follow NaijaVibe


HoT DOWNLOAD
👇



On May 15, Wade filed a civil lawsuit against Michael Jackson's estate alleging that he was in fact sexually abused by Michael, going back on nearly 20 years of defending Michael with positive testimonies and interviews. Sources say that Wade's lawsuit has devastated Paris – not only has she had to face these horrible accusations about her deceased father, she has also had to deal with massive amounts of hate from Twitter users because of them. "The Twitter bullying she receives and her father being brought back up in the news by Wade Robson's claims has really thrown her in a tailspin", a source says.

On top of all of that, Paris is "still emotionally devastated from Michael Jackson's death and the high amount of dysfunction in the family", a source reveals. Michael obviously died suddenly in 2009, and the Jackson family has been anything but stable in the years since. Paris addressed the family's dysfunction head-on in early May when she chose to move out of the home she shares with her grandmother, Katherine Jackson, and live with her birth mother, Debbie Rowe.

And before that in 2012, Michael's siblings ambushed Katherine's house in an attempt to separate Paris and the other grandchildren from Katherine. The chaotic confrontation ended with a physical fight between Paris and Janet Jackson.

It seems that Paris' Twitter feed has been an unfortunate cry for help. On the social network, she has worn her emotions on her sleeve and shown definite signs of depression. "So done", she tweeted on May 20.

Her tweets have only grown more downtrodden since, with messages that seem to indicate a broken relationship – "Love is dumb and so are you" and "don't kiss someone one day if you plan on seeing someone else the next day" – along with more troubling cryptic tweets like, "Don't listen to a word I say/the screams all sound the same" and "can't satisfy anyone".

And on May 31, Paris posted a video of herself doing her own makeup to YouTube. At the time she seemed refreshingly self-deprecating, saying things like "I'm not normal". Those remarks are now much more concerning.

And ironically, the video has a dark, melancholy tone. In it Paris talks about using makeup that's "deadly" and says, "imagine that on a tombstone", and "dies while choking on makeup."

Paris is obviously struggling with some deep issues and clearly living a very difficult life. We hope after this scary episode the ones who truly love her will help her get the help she needs and the love and attention she deserves.