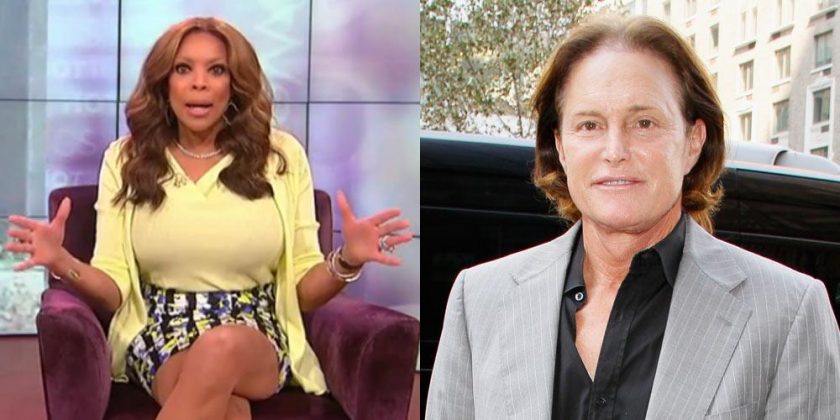 On her show on Thursday, a day before Bruce Jenner's blockbuster interview with Diane Sawyer aired, opinionated talkshow host, WendyWilliams slammed Bruce Jenner for living a lie for 65 years.
If this wasn't an obligation due to my career, I wouldn't watch" Wendy said of the upcoming show "I feel duped by Bruce.. I don't feel duped because he's turning into a woman. I feel duped because he's the same fame whore as the rest of the family. Bruce has a daughter who is 17, involved with a 25 year old father of one. And she's a high school drop out and she's messing with her face and her boobs, and her behind, way to early in life. Bruce has bigger fish to fry than turning into Belinda. He should have thought about [transitioning] before he had all the kids.. Belinda, shame on you!
Of course, Wendy is being slammed for her comments, but trust her, she doesn't care. By Monday, we will know what she thinks of Bruce's interview. Meanwhile, see what other Hollywood celebs have to say about Bruce's announcement, after the cut. Actress Kristie Alley kinda shaded Bruce too.
https://www.youtube.com/watch?v=HxphbncPzvI
LAVERNE COX: Sending lots of love and support to #BruceJenner and their family tonight. It is always brave to stand in one's truth. Congrats darling.
ROB LOWE: I was proud of Bruce Jenner in Montreal and I'm proud of him tonight. Some have to fight more than the rest of us for their happiness.
ELLEN DEGENERES: Bruce Jenner is a beautiful, brave human being. Sending him lots of love. He's saving lives and opening minds tonight.
MILEY CYRUS: I LOOOOVE LOOOVE LOOOVE Bruce Jenner!!!!!!!
LADY GAGA: #BruceJennerABC Now that is bravery. We have the chance to write this moment in history together. Let's empower people like Bruce all over the world by being loving & not mean
JIMMY FALLON: One small step for man, one giant leap for mankind. #BruceJenner #Brave
LARRY KING: I've interviewed #BruceJenner many times, and I'm in his corner. I support him & offer my respect.
ANDY COHEN: Mazel Tov to #BruceJenner – very very brave!!!
ELTON JOHN It's an incredibly brave thing to do, especially when you're older. I admire him for doing it and I support him 100 percent.
DR PHIL McGRAW I am so happy for him. This is his body and his life, and he needs to do what he wants to do. It drains your spirit if you can't be yourself. He is freeing himself.
LENA DUNHAM: I think it's an incredibly powerful and brave move to disclose anything about your gender identity or sexuality in such a judgmental society. The interview is going to mean a lot to a lot of young people.
PATRICIA ARQUETTE: You have to be so brave to live this truth of who you are. And if Mrs. Jenner is transitioning, I give all my support to her and love and appreciate everything she's given to America. She's fighting a fight for a lot of kids that are being kicked out of their own homes. Society turns their back on these kids and it's really brutal.
BOY GEORGE: I absolutely applaud what [Jenner's] doing and I think it's very brave. And it actually makes me quite emotional. [Jenner] has my 150 percent support in every way. I think that the whole transgender thing is the new frontier.
WHOOPI GOLDBERG: This is going to be a little bit of a game changer for people, and dealing with family and how people feel and having those conversations, this is going to be much bigger than ABC or Diane (Sawyer),
JEFFREY TAMBOR: Any movement toward authenticity is an important movement and everyone can relate to it.
DONALD TRUMP: It's very sad because he doesn't seem very happy, and maybe whatever he's going to be doing will make him happy. If he's happy, I'm happy.
KIRSTIE ALLEY: Trying to find a place for myself midst a world that has mistaken bravery for insanity… Mandela was brave… the rest of this sh*t is absurd. (She later insisted the tweet had nothing to do with Bruce).
NaijaVibe HoT DOWNLOAD
👇