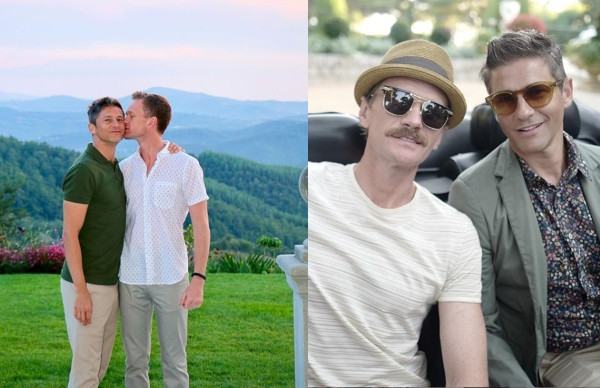 Famous actor, Neil Patrick Harris is very excited as he marks his 5th wedding anniversary with his husband, David Burtka.
The couple who both featured in popular TV series, "How I Met Your Mother" jumped on Instagram to flaunt their loved up pictures and also attached heartfelt anniversary messages to each other.
Neil wrote, "Five years ago today, in the countryside of central Italy, I married this miraculous man. David Michael Burtka continues to inspire my soul, inform my spirit, and ignite my heart. Best decision ever. Happy Anniversary, @dbelicious. I love living life with you."
David also shared, "5 years ago today I married the man of my dreams. Thank you @nph for being patient, mindful, enjoyable, sexy, kind, smart, carefree, hilarious, playful, and most of all loving me with all your heart. Year five is going to be the best yet, I just know it!! You are my rock and shining armor."
See what he shared,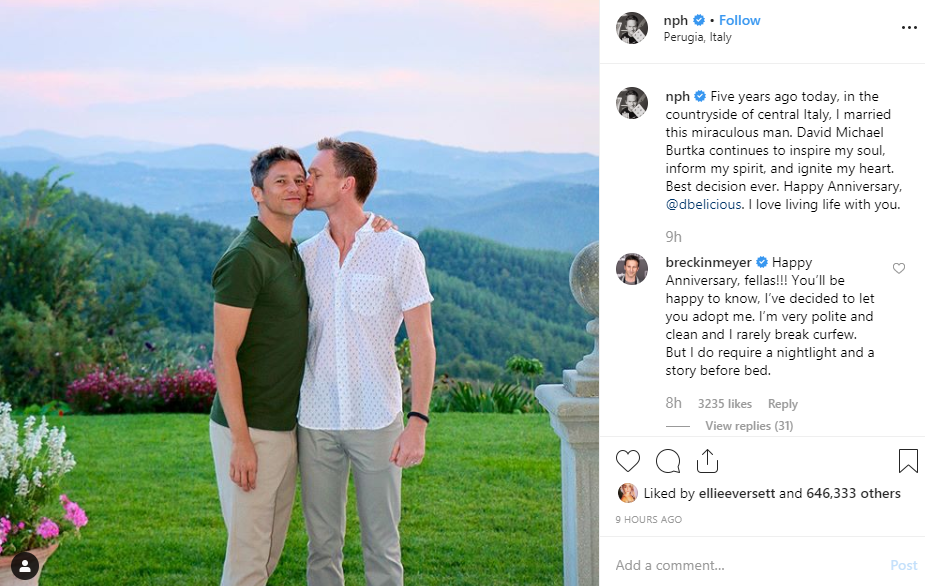 Congratz to them.
Neil Patrick Harris (born June 15, 1973)is an American actor, comedian, writer, producer, magician, and singer. He is known primarily for his comedy roles on television and his dramatic and musical stage roles. On television, he is known for playing the title character on Doogie Howser, M.D. (1989–1993), Barney Stinson on How I Met Your Mother (2005–2014, for which he was nominated for four Emmy Awards), and Count Olaf in A Series of Unfortunate Events (2017–2019).
Harris is also known for his role as the title character in Joss Whedon's musical Dr. Horrible's Sing-Along Blog (2008) and a fictional version of himself in the Harold & Kumar film series (2004–2011). His other films include Starship Troopers (1997), Beastly (2011), The Smurfs (2011), The Smurfs 2 (2013), A Million Ways to Die in the West (2014), and Gone Girl (2014). In 2014, he starred in the title role in Hedwig and the Angry Inch on Broadway, for which he won the 2014 Tony Award for Best Leading Actor in a Musical.
Harris has hosted the Tony Awards in 2009, 2011, 2012, and 2013, for which he won four special class Emmy Awards. He also hosted the Primetime Emmy Awards in 2009 and 2013, and hosted the 87th Academy Awards in 2015, thus making him the first openly gay man to host the Academy Awards.
Harris was named one of Time magazine's 100 Most Influential People in 2010. He is married to David Burtka. In 2010, they had twins via surrogacy.
From 2005 to 2014, Harris played Barney Stinson, a serial womanizer, in the CBS ensemble sitcom How I Met Your Mother. The role earned him Emmy nominations every year from 2007 to 2010.
NaijaVibe HoT DOWNLOAD
👇