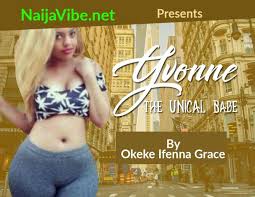 Right now, my life was one big ball of shit.
I could hear voices outside, the nurses, I presumed.
They sounded like nurses. Don't ask me how nurses sound.
Cervical cancer, what was it actually? The doctor had said it could be cured. He said through operation, and that it would require lots of money, and that there's every possibility her entire cervix would be uprooted.
Nothing less than a million and a half, he had said. He said all these with utter indifference, as though this situation was nothing new to him. I could not blame him, he was about to make some money, why then would he show any bit of concern?
Anyway, I trusted Yvonne, or what was her name again, Oriaku.. Oriaku Azubuike.
Hmm, I still couldn't blame her, I personally could not bear such a name as Oriaku, especially if I had a beautiful English name. I for one had a male name which I didn't like to tell people, Ikechukwu. So I could understand Yvonne's reason for the name swap. I also strongly believed that the only thing Yvonne lied about was her name, and that her family was beyond capable of footing the hospital bills.
A call came in, not mine, but the doctors'
"oh, her mother is here. Take her to the room, I'll be with them shortly". He got up, gave his chair a light shove, and walked out of the office.
He didn't even acknowledge my presence, left as though I wasn't there, he returned almost immediately
"oh, your friend's mother is around", he left as quickly as he had come.
Yvonne's case was nothing at all, my case was worse. I was pregnant and didn't know who particularly was the father.
That was bad.
I could pin it on Oseloka, but what if the child looked nothing like neither of us what would be my explanation? I got up, regained composure, and left the office. There was sudden silence as soon as I got to the reception. Three nurses leaned on the counter, together with that gum chewing receptionist.
They stared at me, I could not decipher what the expressions on their faces told, but I knew it was nothing good.
As soon as I crossed the reception, their voices rose in outbursts of chatter
"see as the girl fine"
"at least her own better, na only belle she get, her friend nko"
"I pity her friend o, the friend too fine".
Her toe nails were black from dirt, she tied her head scarf loosely, and her clothes were faded from overuse. Her fair complexion was a mixture of dirty brown and pale pink, together with very black knuckles; a plain result of a very poor attempt at bleaching. She looked hungry and sunburnt.
"How I go take get one point five million naira, no be me tell my pikin make she do ashawo na", she lamented further that she only sold bolé in Upper Iweka, Onitsha and that her husband was late, that for the past seven years she had sustained six children alone,
"Oriaku is my first child, she doesn't send a kobo home, I never knew she live so big here na, always came back looking sick and hungry"
then, she wailed on and on and rolled herself on the floor, the wail was just too sudden, I didn't expect it. The way she threw herself to the floor got me shocked.
But that was not the issue, the issue here was that Yvonne the great, the Yvonne who had several rich uncles, the Yvonne whose father's house in Ibadan contained a Jacuzzi in each bathroom, that Yvonne was Oriaku, Oriaku that didn't have a father, and had a poor mother, and resided in Upper Iweka, Onitsha.
When her mother had calmed down a little, seated on the bed, her shoulders moving amidst light sobs, she said
"I don't even know where the name Yvonne appeared from", she looked at me, her eyes bloodshot from tears,
"you said her name is Yvonne", the thing is, while she was wailing, I had tried consoling her and had called her mama Yvonne.
Her wail ended as abruptly as it had begun
"who is Yvonne? Her English name is Apolonia".
It was as though Yvonne was not present, for she lay silently on the bed. What was I expecting of her? Everything her mother said was true; her silence implied that. Angrily, her mother got up
"I don't have a kobo to spend on a disgrace such as this. If she is to die, then let her die. I come dey rush, from Onitsha to Calabar I no even know say na she cause her wahala by herself", she said and stormed out.
The doctor looked at me, not a bit of sympathy could be sensed from him
"your friend can't be here exceeding a week, after a week, we would dismiss her. If there's anything you think you can do within that week.. financially I mean, then do it. If not, we don't run a charity organisation here, she would leave immediately", he left too.
Few hours had passed, and no hope from anyone. The call I made to uncle C-neke was fruitless.
Uncle Alfred was no hope at all. I took some contacts from Yvonne's phone, only few had the decency to feign sympathy.
Everything seemed hopeless now.
"Ah! Yvonne.. abi Oriaku, anyone jare, nobody is giving us green light o. No hope at all, and I don't even have up to a hundred thousand. What Would a hundred thousand do sef?"
I said at the same time picking up my bag to leave. All this while, she was silent, then like a bolt from the blue, she spoke
"wait, Precious, I know one more Chief. Please, help me".
I got weak to my bones. This could not be happening. I was pregnant and did not have the mind for an abortion. This.. all this.. this is what I wished for, but this is not how I envisioned it. I wished for a big girl, the real deal, a rich girl and I got one and even more.
Read Yvonne the Unical Babe Episode 8
NaijaVibe HoT DOWNLOAD
👇