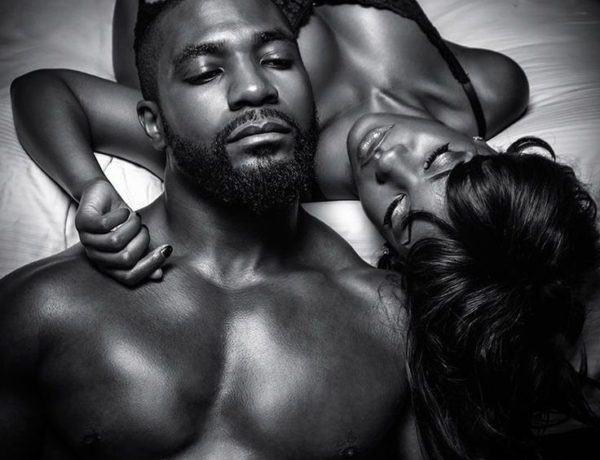 My people, una know say dem dey always talk say sometin must kill man.
Ehen!
My own eh, na t*t* go kee me!
My own don reach.
I go write letter give Mama Edidiong for Ikot-Ekpene. I go tell am say my pr*ck don put me inside Wahala.
I know say na Mama Edidiong swear for me so.
I know.
Anyway, I go still tell una who Mama Edidiong be. First, make I tell una how t*t* wan take kee me.
After dat day wey I waka enter Madam room, wey I catch am with Amara as dem dey do jangolova inside bed, e come be like say dem sign my death warrant.
The other day, Madam call me enter room. I go begin service am. As I dey there dey faya the t*t* as German machine wey I be, Amara wear only 'shimi' enter.
As she enter so, Madam shift, tell me say make I comot. As I comot prick, Amara rush am like say na recharge card.
Oh boy!
She begin suck my pr*ck like say na Uncle Sam Ice cream.
Abasi!
E be like say my spirit go follow from my prick comot. Her lips just dey move up and down for my pr*ck. E get the way wey she take put mouth, e no even be like say she get teeth at all at all. She comot my pr*ck, lick the head reach for my blokos, come carry tongue lick my pr*ck reach the head.
Chai!
As Madam dey look us, she carry her hand put for her t*t*, just dey finger herself. Her t*t* just dey my face, t*t* water just dey flow dey come out. I use style, shift Amara come on top bed.
As Amara dey suck my big pr*ck on top bed, me just carry my two hands, separate Madam laps, carry my mouth chook for inside her t*t*, begin dey lick am like say I wan die put for inside there.
Madam t*t* sweet o.
The clitoris just dey for up there, fresh and e big small. If I suck t*t* small, I go carry my tongue take lick the clitoris. As I still dey there dey suck t*t*, e get one kind style wey Amara take suck my prick, hehehehehe, na rush I take push am comot.
The tin sweet me die. I think say I go pour.
As old soldier wey Amara be, she carry mouth reach my pr*ck again. She dey look my pr*ck like say na pure gold. Like say if I stop am again, she go just die.
I just leave am make she continue.
Before I say make I turn head sef, Madam don carry her hand take turn my head put for her t*t*.
Me come dey reason say I wan f*ck Madam t*t* again. The t*t* dey red like tomato jos, come tight like pant. My pr*ck just dey inside Amara mouth dey jump like frog.
Amara no dey even look me.
Her eye don close. Her mouth just dey on top my pr*ck dey perform miracle for there.
I no know say na so e dey sweet make person suck person pr*ck.
As I still dey suck Madam t*t*, I carry one finger chook for inside, come take am dey totori Madam for inside.
She sef don close eye, take her hand dey press her bobbi like say na bread. E no reach 2 minutes, she begin shake like okada wey fuel don finish for inside.
As she dey shake, she begin call my name like small baby.
'Akpan! Akpan! Chaii'
'Akpan! Igbugom!'
'Lacha ba ya nna!'
'Chaaaiiiii!'
Na dat time I know say the thing don reach gear 4.
Her leg come begin dey vibrate like Motorola Talkabout, dey do like say e go lock my head for inside her t*t*. Oh boy! The leg hold me tight for there o!
Madam come begin dey shoot wetin be like piss for my face. The thing hot and e no dey smell like piss sha. E be like water.
Wetin Akpan no go see for inside t*t*!
Small enter my mouth, some pour for my face and on top bed sheet.
Amara just dey busy dey confuse me with her mouth. Her mouth just dey sweet me pass t*t* sef.
E be like say make she dey suck me dey go.
As I still dey there for Madam t*t*, Amara do that style again for on top my prick and I know say e don be for me.
As madam laps still hold my head tight, I no fit move. I just know say I go pour.
The only thing wey I fit do na to shout like say I dey my village.
Na so my pr*ck begin shoot all my semen enter inside Amara mouth. Amara no even shake. She just dey swallow everything.
As I pour inside her mouth finish, she swallow the whole thing, lick mouth join.
Madam leg still hold my head sha, so I just dey there come remember say Mama Edidiong swear for me.
Una see am so?
Make una help me beg Mama Edidiong wey dey sell bread for Okpanka junction for Ikoyi-Ekpene.
I know say I collect Cigar for her shop and I no pay. Abeg tell am say I go bring her 10 naira if I dey come back house.
I no wan die on top t*t*.
Abeg.
Not today.
NaijaVibe HoT DOWNLOAD
👇