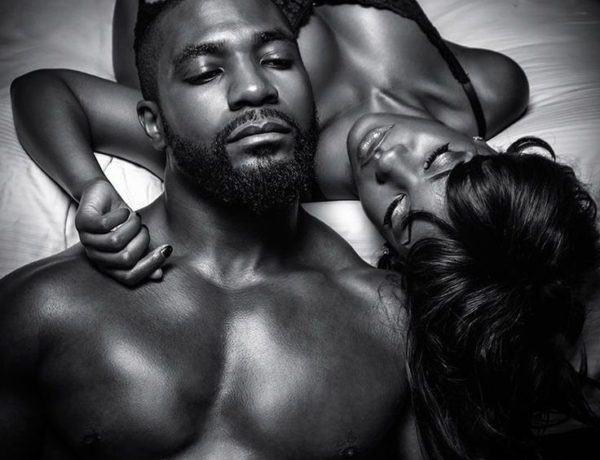 Saturday pass, di world no end. Oga no sack me.
Sunday pass, di world still no end and Oga no sack me kpa kpa.
Madam just squeeze face as she follow from church enta house.
She just dey vex, dey talk say her Pastor na fake, say him be 419.
Di pastor tell dem talk say di world go end, say make people sell dem property carry di money come church. Las las, di world no come end.
Ordinary rain sef no fall, not to talk of sky wey go open make Jesus cari him hand come down.
For my mind, me know say hell faya sure for me, so I no dey even think heaven at all.
Me know say heaven no concern me.
Amara t*t* still dey my mind.
Madam t*t* still dey my mind.
All di sperm wey I pour on top Oga Italian shoe still dey my mind.
As Oga no gree talk anything since dat day wen him catch me as I dey f*ck Amara, I don begin fear weda him wan gimme beta disgrace. I go jus open him chapter.
Anyway, as Madam dey complain say her Pastor na 419, she talk say make I bring orange juice come for am for her room for up.
E get di way wey she take talk am, come cut eye for me, I code am sharp sharp.
I know say Oga still dey vex say I dey f*ck Amara for him back, but him go shock if him come know say I dey follow am yansh Madam.
As I reach kitchen, I pour orange juice for Madam cup, use style check Amara room but Amara neva come back from church.
I quick enta my room, comot my pant, wear only boxers climb go up.
As I enta Madam room, na only pant she wear. Her booby just dey look me like GOTV.
OH BOY!
See fresh booby wey Oga dey miss.
I drop the orange juice quick rush Madam booby, begin suck am like say na energy drink.
Abasi!
Before I suck reach 5 minutes, Madam don use style chook hand inside my boxers, begin dey totori with my blokos. As usual, my pr*ck don stand like Mopol wey jam mugu.
As I see say Madam need di tin, I comot her pant come spread her leg on top bed like say na bread wey I wan butter.
As I chook mouth to suck di t*t*, Madam jus hol my head for dia. She reali nid am.
Her t*t* just dey foam like say na Morning Fresh. I jus cari mouth dey chop di t*t* anyhow anyhow. I cari 2 fingers chook inside still dey suck dey go. Madam just raise leg like compass, hol my head right. Di tin dey enta.
As I still dey lick t*t* dey finger Madam, she begin shake like generator wey wan off. Me know say di tin don touch am for GRA. As she begin speak igbo, I know say na cum she wan cum.
'Chai! Chi m ooo!'
'Lasie ya ike'
'Chai! Chai'
I no dey hear igbo, but as her t*t* come soak and her body dey vibrate, na cum e be so.
I increase my speed, come add anoda finger put for inside her t*t*, come lick di top of her clitoris.
Madam vibrate pass 1 minute and as she come dey calm down, na im I carry my akwa-ibom prick chook inside her t*t*. Di tin sweet me o!
T*t* wey Madam talk say I no go f*ck again, na im I dey inside dey enjoy so. I cari my prick enta gear 4 make we kolomental sharply. I no want make Amara or Oga come back catch us, so I know say I gats dey fast.
As I dey lash Madam, na only 'phukt' 'phukt' 'phukt' I dey hear. Madam t*t* and my prick just dey collabo anyhow anyhow. T*t* water jus dey soak di bed sheet.
The toto sweet me, make I no lie, so me sef know say I go soon pour. As I dey look Madam booby, dey enta madam t*t*, e no too tey, I begin feel am say my time to pour don reach.
Madam begin shake like gwongworo wey cari overload.
Me sef don begin see double.
My head don dey float comot and my prick remain small make e burst.
Na dat time me begin shoot my semen enter madam t*t* like sniper wey I be.
Madam close eye like say she dey meditate, but her mind don go far. Di f*ck don sweet am no be small.
Me know say Madam go begin do me wella again, so me jus happy inside my mind.
Any time wey I service Madam well, evri dey go wella for house.
As I don cum finish, I pick my boxers for hand, naked waka comot from Madam room, before Oga go come back catch me for there.
Oga fit no pursue me if him see me dey f*ck Amara, but I know say him go pursue me go my village if him see say I dey lash Madam, so I respect myself jeje dey my room like say Na so I dey since.
Make una dey epp me pray make Oga no pursue me because say I pour sperm for on top him shoe.
Abeg.
I never wan go back Akwa-Ibom.
NaijaVibe HoT DOWNLOAD
👇